Thank you and looking forward to 2019!
October 04, 2017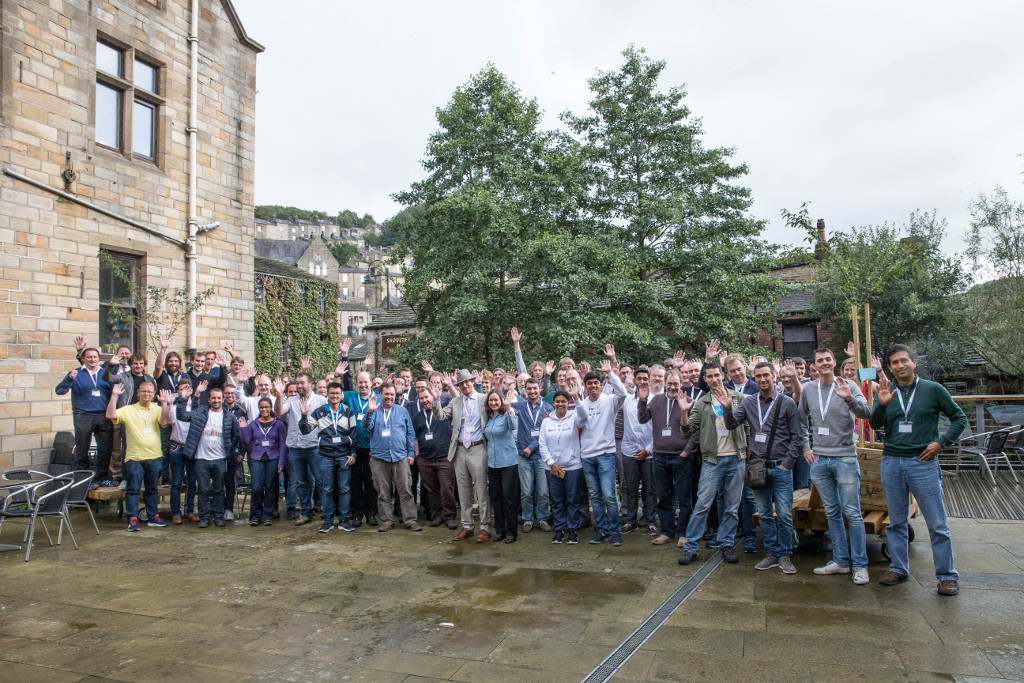 ORConf 2017 group photo, © Craig Shaw Photography
We'd just like to start by saying a huge thank you to everyone who made Wuthering Bytes 2017 such an amazing experience from start to finish: the speakers, event organisers, venues, caterers, sponsors of both the festival and participating events, and of course everyone who came along — all of which without whose support Wuthering Bytes simply would not be what it is.
Best Festival Day yet?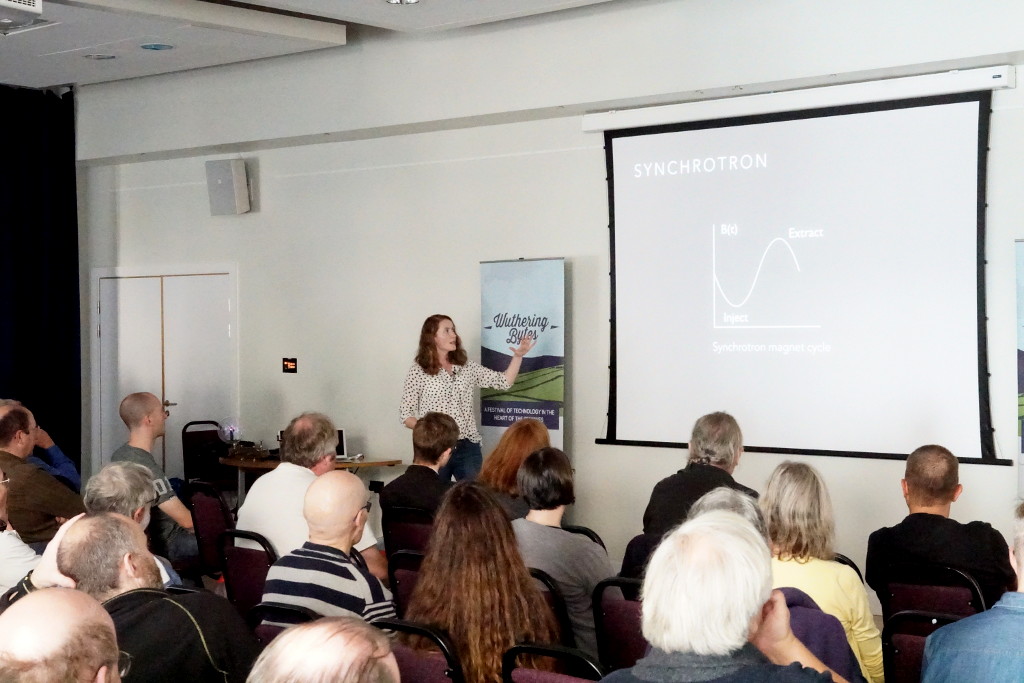 Dr Suzie Sheehy
Many attendees suggested that this year's Festival Day was the best yet and, much as we wouldn't like to score one year against another, we must admit that it was pretty special!
It feels appropriate that a notable mention must go to Rag and Bone, who brought a last minute addition to Festival Day in the form of Hurly Burly, a "mobile Island of Noise". As with the Umbrella Tree — a.k.a. Tatterdemalion Grove — creation they brought along the previous year, this proved to be a great of source of wonder, joy and bewilderment during breaks.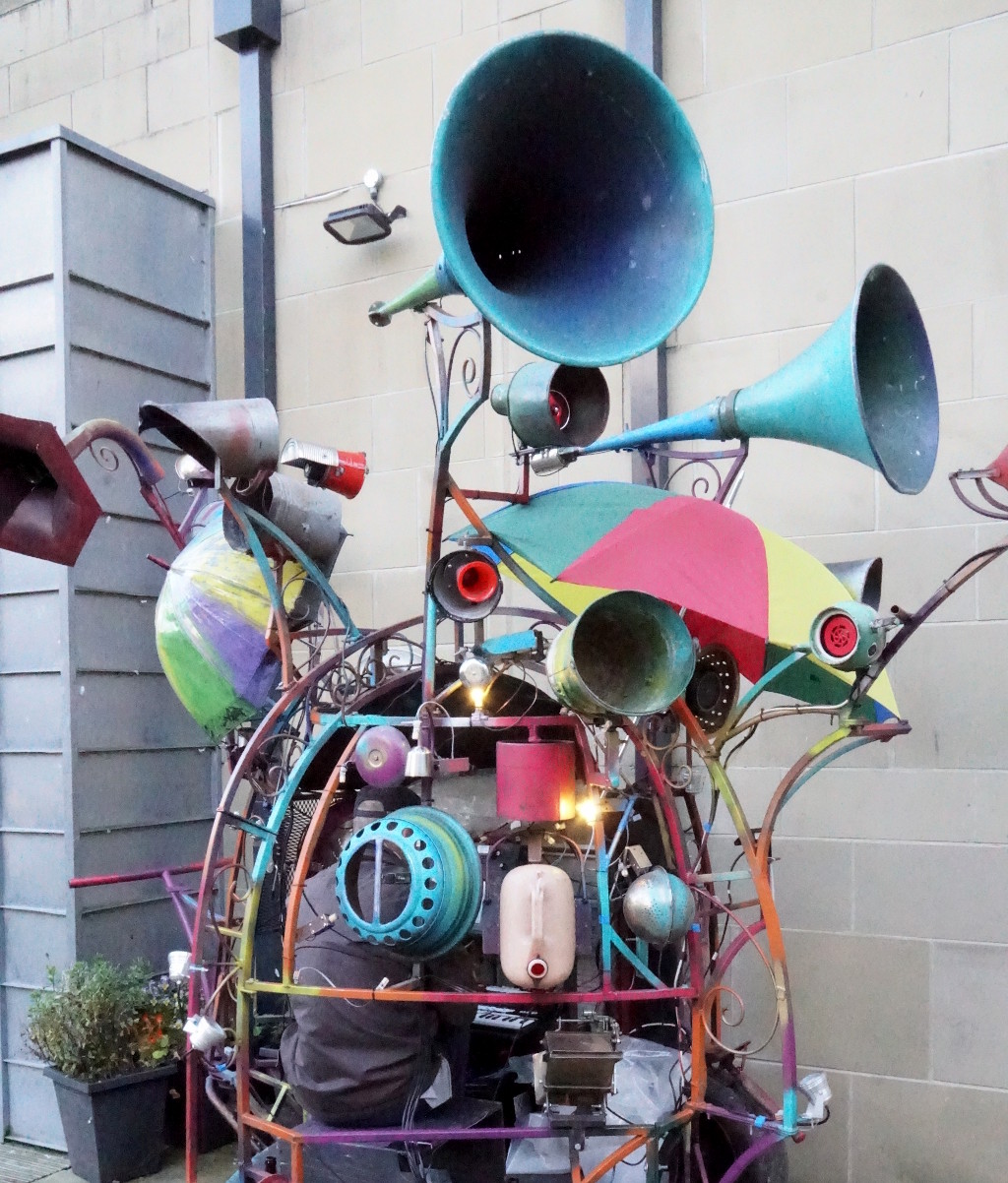 Thanks once again to our most excellent compère for the day, Dr Laura James, and to our keynote speaker Dr David Hartley, who had us all captivated with his story of growing up in Hebden Bridge when it was still an industrial and very different town, before heading off to Cambridge to study and subsequently going on to make numerous major contributions to the field of computing. And of course thanks to all the Festival Day speakers, who captivated and delighted throughout the day.
As has become tradition, Festival Day concluded with the evening social, featuring local beer, food from the Town Hall cafe and lively conversation, with a first class soundtrack as ever from Wuthering Bytes DJs Dave Ives, Mark Tranmer and Richard O'Brien.
RISC-V, AI, LoRaWAN and more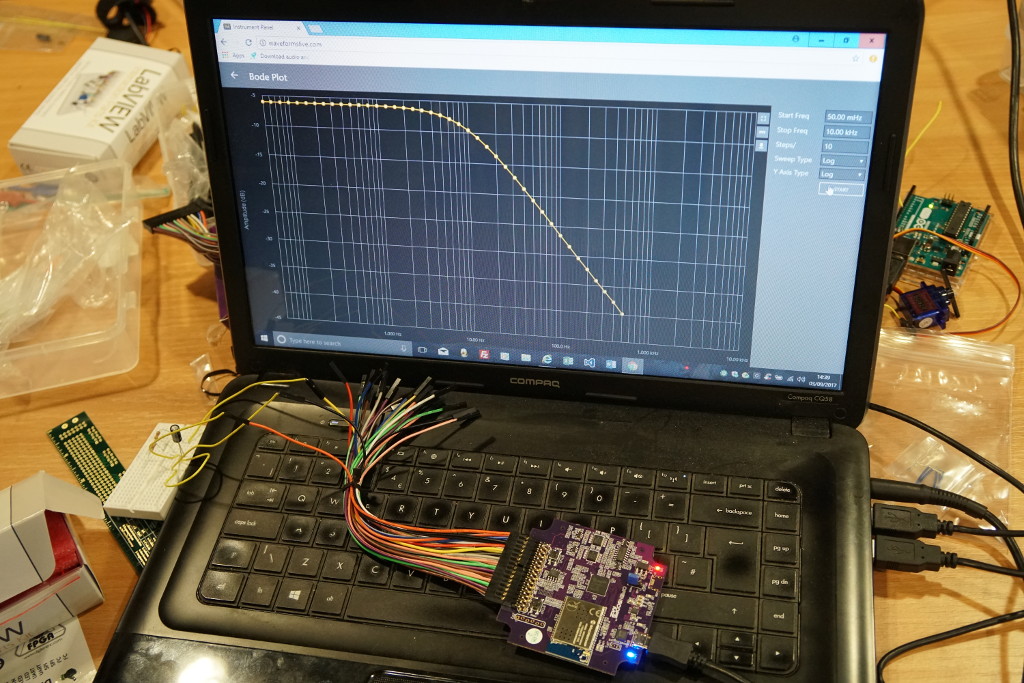 Digilent OpenScope at OSHCamp
Now in it's seventh year, perennial fixture and in a large part inspiration for the festival, Open Source Hardware Camp, returned over the weekend of 2nd and 3rd September, featuring talks and workshops on topics including RISC-V, artificial intelligence and Robot Operating System.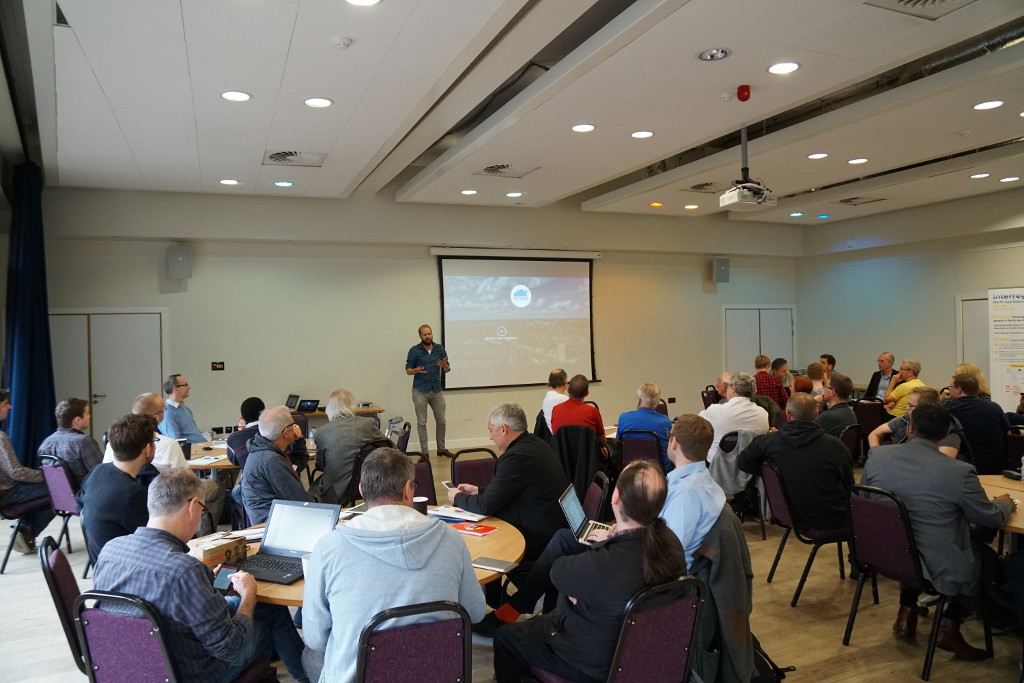 Wienke Giezeman presenting at Things Happening
Also on Sunday 3rd we had the IoT Build and Deploy workshop hosted by Things North, which due to popular demand had to switch venues from Bridge Rectifier to a much larger space Rishworth School. Then on Monday 4th we were joined by none other than Initiator of The Things Network (TTN), Wienke Giezeman, for Things Happening — a symposium for the burgeoning TTN communities across the north of England and much further afield.
A gentle introduction to FPGA programming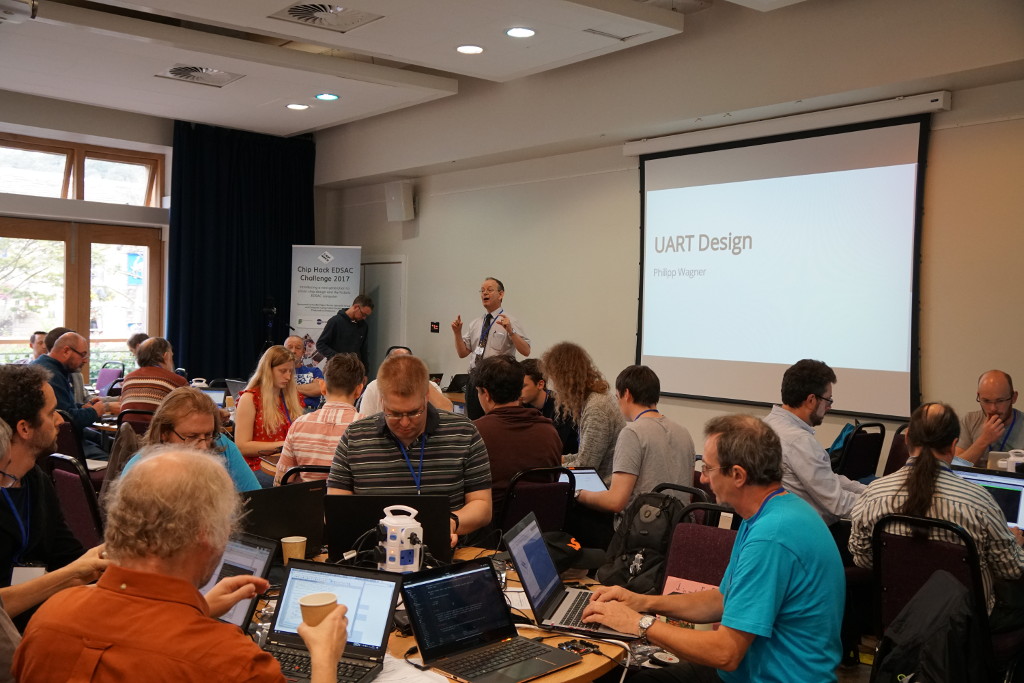 Chip Hack compère Dr Jeremy Bennett

Chip Hack events have previously been run in London and Cambridge, with both proving incredibly popular. This year's Chip Hack was no different in this respect and the Town Hall was packed out across Wednesday 6th to Friday 8th. However, this year the event was particularly special, with the EDSAC Challenge aspect adding to the programme with talks from world experts on the history of computing, EDSAC, and projects to create a full size replica and FPGA models of it.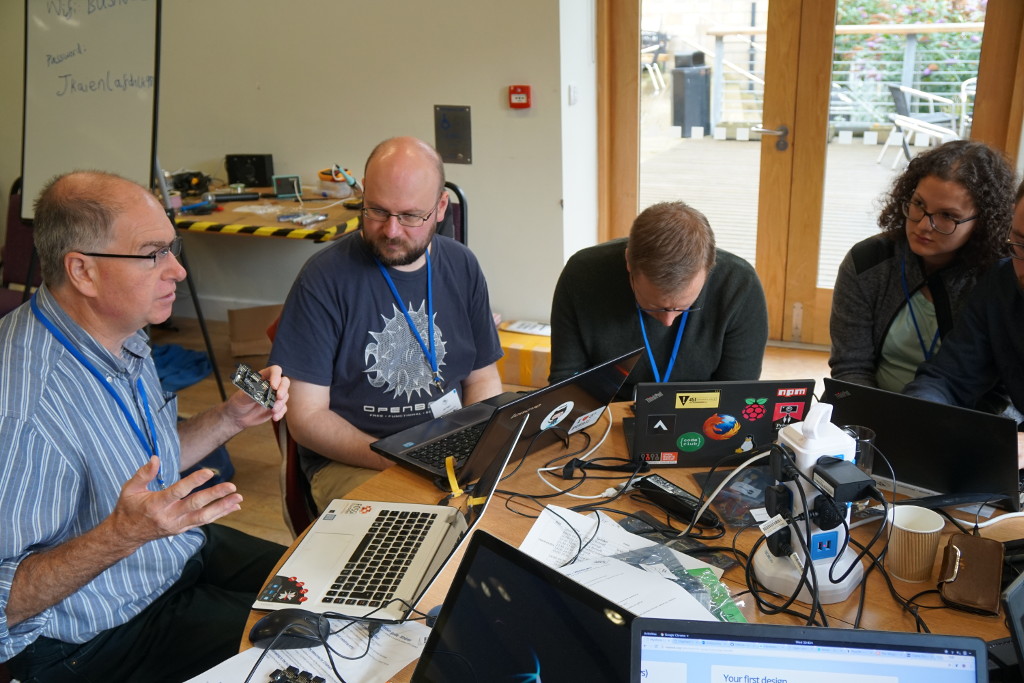 myStorm co-creator, Ken Boak, assisting at Chip Hack
A special thanks to Embecosm for producing the event, the speakers and helpers, and of course Alan Wood and Ken Boak, who developed the low cost myStorm FPGA board used, and Clifford Wolf, driving force behind the open source FPGA toolchain this uses.
From the transistor level up to Linux user space and beyond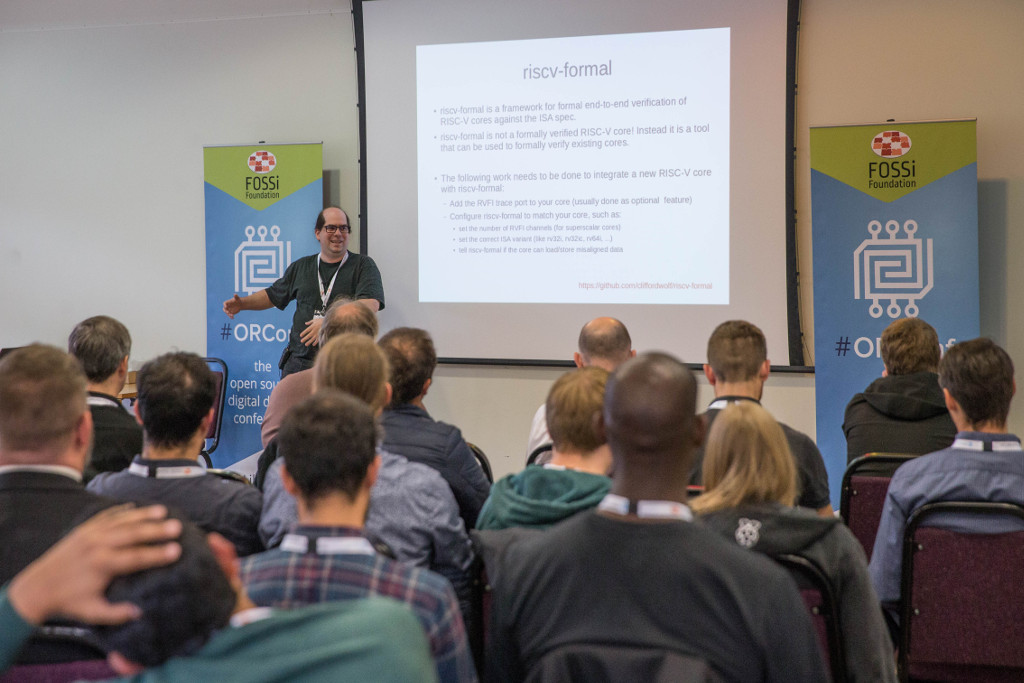 Clifford Wolf presenting, © Craig Shaw Photography
Last year the festival drew to a close with the annual GNU tools developer conference, a.k.a. Cauldron, which saw a truly international delegation come to town — and not only that, but with many veteran developers of absolutely vital components of the open source software ecosystem.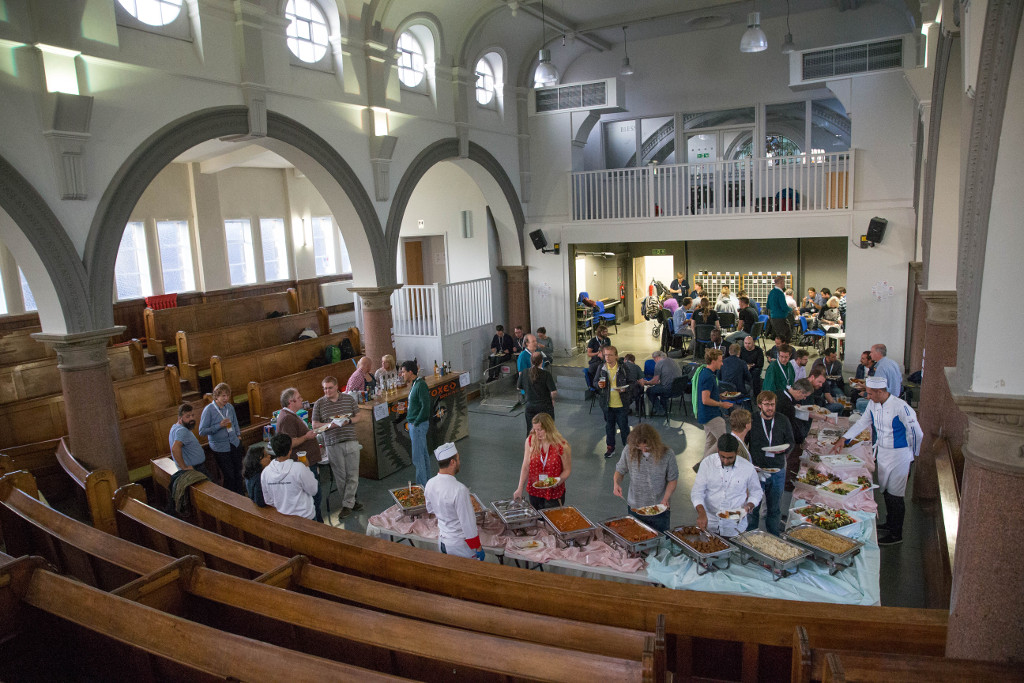 ORConf dinner at The Birchcliffe Centre, © Craig Shaw Photography
A tough act to follow! So as you can imagine we were delighted when ORConf, the annual digital design conference organised by the Free and Open Source Silicon Foundation, decided to join us for the closing three days of the festival this year. With talks on topics including RISC-V platforms, multicore, licensing, and even low volume custom chips for makers, it did not disappoint.
See you in 2019
Finally, after five years in a row we have decided to take next year off and so the next Wuthering Bytes will be in 2019. In fact to be precise, the ten days spanning Friday 30th August and Sunday 8th September — we've already made a booking with the Town Hall!
Despite taking a bit of a break next year, soon we will start planning for the year after and so if you'd like to propose hosting an event as part of the festival, please do get in touch. Also many events, such as OSHCamp and ORConf, will be running in 2018 and hosted elsewhere, so be sure to look out for announcements with details in due course.
Andrew and Tim