Tatterdemalion Grove comes to Festival Day
August 26, 2016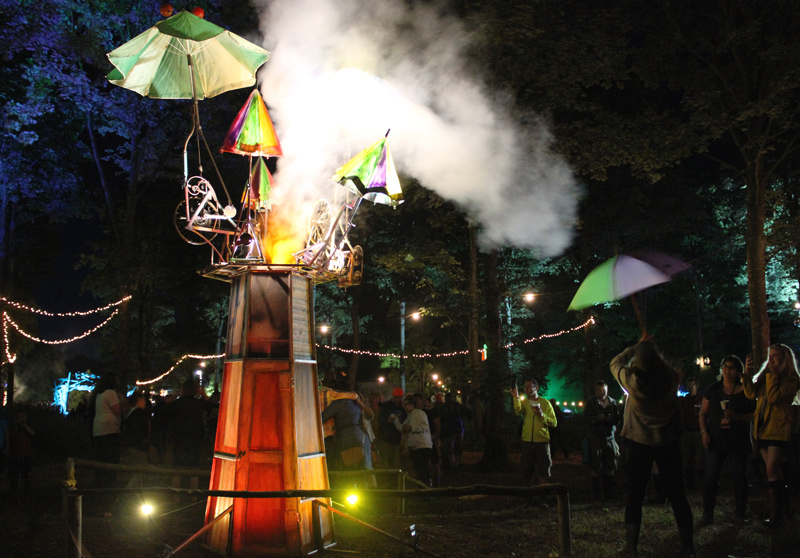 We're excited to announce that Tatterdemalion Grove will be joining us for Festival Day! But what exactly is that you ask? Well, in the words of the creators, it is:
an attempt by a post-collapse society to recreate a Lost Eden with the scavenged remains at their disposal
future archaeologists trying to rebuild the past from a set of mangled blueprints
Mad Max retires from endless car chases to take up landscape gardening
Dr. Seuss enters a post-apocalyptic Chelsea Flower Show
The rusty vegetable dream of a dying machine
So there you have it. Everything clear now? No? OK...
Tatterdemalion Grove consists of a 4m high steel tree like structure, (The Umbrella Tree) with limbs supporting a myriad of umbrellas. These umbrellas are mechanically opened and closed with motors, each umbrella's motor is geared differently, so that they open and close at different speeds. Each motor is also controlled individually, so that they can choreograph a strange mechanical ballet, provoking images of time-lapse film of flowers opening and closing or a strange post-industrial coral formation.
Word has it that IoT wonder-tool, Node-RED, also plays a part in bringing it to life.
The work is the brainchild of Rag & Bone/Dave Young, who says that:

Tatterdemalion Grove is informed by three guiding principles: invention, charm and absurdity:from the invention and repurposing of the Clangers & the Wombles, to the dream-like worlds of Dr Seuss, from a literary concept like Franz Kafka's' Odradek (leftbehind objects that have an unknown purpose) to the wit, warmth and absurdity of Spike Milligan (especially the film of his play The Bed Sitting Room); from the inventive delights of Rowland Emmett to the anarchic spirit of Bow Gamelan.
We can't wait :D